Like a lot of other people in Christian circles, I've been listening to the current podcast called The Rise and Fall of Mars Hill.
I listen with great interest because while I didn't go to Mars Hill, I am a church person, and I knew about Mars Hill while it still existed.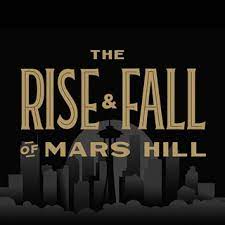 Anyway. Several times in the podcast so far, people who were close to Mark said something about how they realized that Mars Hill eventually became focused on one individual, and it was not God, it was Mark Driscoll.
When I heard that, I remembered reading an interview where one of Rachel Hollis's staffers said something very similar; that the organization had ended up being all about one person, and that person was Rachel.
(Rachel Hollis did not run a Christian organization, but she was very famous, and she and her husband were dispensing marriage advice and running expensive marriage conferences right up until their sudden divorce last year. As you may imagine, their followers were rather disillusioned. And displeased.)
Anyway.
This similarity has had me pondering a question: do people become very self-centered as a result of becoming so famous? Did they start out humble, but then did all the attention go to their heads, and did they then honestly start to see themselves as being rather super-human?
(In which case we should all hope we are never cursed with a large following!)
Or is it more that people with already-narcissistic leanings tend to be the type of people to amass huge followings?
I think I lean slightly toward thinking that it's the latter, not the former, because I can think of a fair number of people with large followings who do still seem to be focused on others and not just on themselves.
I have nowhere near the type of influence that Mark Driscoll or Rachel Hollis does, but still, as I was pondering this question, I felt a little scared.
Like, what if my relatively small amount of influence eventually causes me to have an inflated view of my own importance?
Is it dangerous for any of us to have an online following?
I don't know for sure, but I'm guessing that people's hearts have a whole lot to do with how well they handle this. People who have a heart to serve and help others are probably going to handle a following differently than people who are looking to fill a hole in their own hearts.
(Which is what most narcissism is, at its core.)
I also felt a little bit comforted when I realized that most narcissistic influencers probably are not stopping to ask these types of questions.
It's like how they say if you worry about whether or not you are a good parent, you probably ARE a good parent. The ones who are really stinking it up on the parenting front often aren't worried about it at all!
Anyway. That's something I've been thinking about.
What's something you've been thinking about lately?