Boy, this is a little bit hard!
I'd say that my dining room is currently one of my favorites because of my new windows. The light from those is making me awfully happy!
But that's really more about the windows than it is about the dining room itself.
Probably my favorite room is the bedroom I share with Mr. FG. And that is also not so much about the room itself, at least not right now.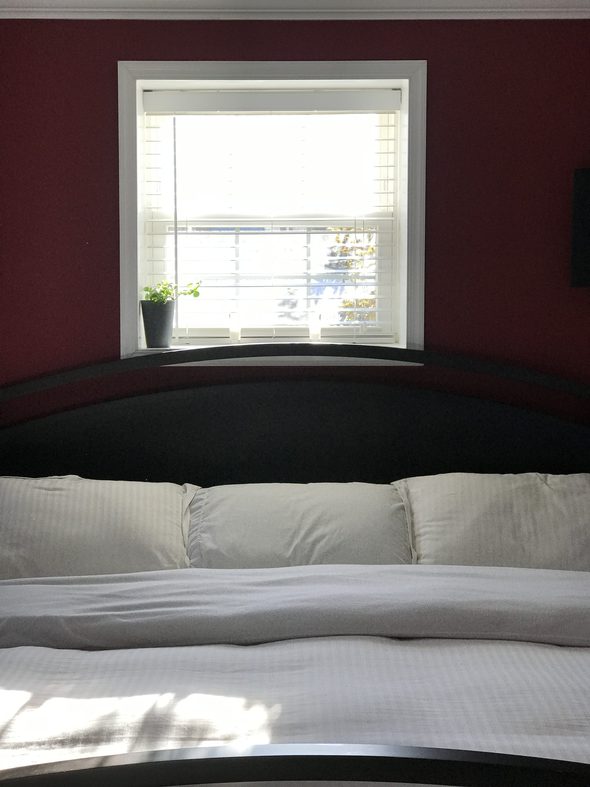 Mainly the walls are the problem; they're a dark burgundy color that I really, really want to change.
Why do I like the bedroom, despite the paint color?
For starters, I really like going to bed because I really like what sleep does for me. I hop in there feeling exhausted, and I wake up feeling so much better (most of the time at least!) How could you not like a room that makes you feel better on a regular basis?
I also love this room because it has our very comfy king-sized bed. Almost every night when I climb into bed, I am filled with fresh appreciation for the level of comfort I'm experiencing.
Our room is usually pretty clean and clutter-free too, so that gives it a good feeling.
(That stands in stark contrast to, say, my laundry room. Ha.)
What's your favorite room in your house?
P.S. For the record, I have only myself to blame for the bedroom paint color. I picked it out in 2006, when everyone was in love with burgundy. I am way over it now.