I was 17 when I learned to drive. That's a little bit on the old side, especially for someone from my generation.
But for some reason, I just wasn't in a huge hurry. And after a rather adventurous experience with my older brother learning to drive, my parents weren't in a hurry either.
Heh.
At any rate, I know the first time I drove was on a spring or summer evening, in our neighborhood, with my dad, in our Plymouth K-car.
(Off-white, four door station wagon, with wood paneling down the sides. The below photo from this site is the closest thing I can find!)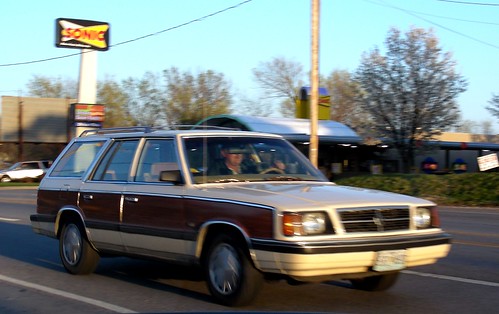 The main thing I can remember from this virgin outing is that I did not exceed 15 miles per hour for the entire time we were out.
I know some people just throw their kids behind the wheel and take them right out onto the beltway, but I'm really glad my first experience was neighborhood streets instead!